MR Animal Anatomy 3D Enhanced Interactive System
1. Naked-eye 3D technology combined with structure free splitting
The system is equipped with high-definition 3D maps, and the details of each structure can be presented in the form of naked-eye 3D, so that students can be immersive, and can better understand the structure and function of animals.
Combination and comparison of model and atlas data
2. The comparative teaching of anatomical models and theoretical atlas data can help students deepen learning depth and expand learning knowledge more effectively.
3. Flexible and varied question type
Including atlas, model, specimen, slices and other extension questions;
Contains single choice, multiple choice, and judgment, fill in the blanks, noun explanation, questions and answers. Support independent exercises, homework, online tests and other learning modes.
The study progress of the examination questions can be checked (the study status of the examination questions can be clearly viewed; Answered, wrong, not answered). Synchronize the status of the desktop, web, and mobile terminals, making learning objectives clear and reducing unnecessary time and energy investment.
4. The trinity of simulation experiment training, learning, practice, and test functions is perfectly integrated.
The simulation experiment training content is divided into three modules: learning, practice and assessment. The teaching activities are carried out in a scientific learning way, from shallow to deep, step by step, so that students can better receive and understand knowledge.
Experimental scene
Experimental item selection
Experimental content
Fill out the experiment report
Product Function
1. Twelve Animals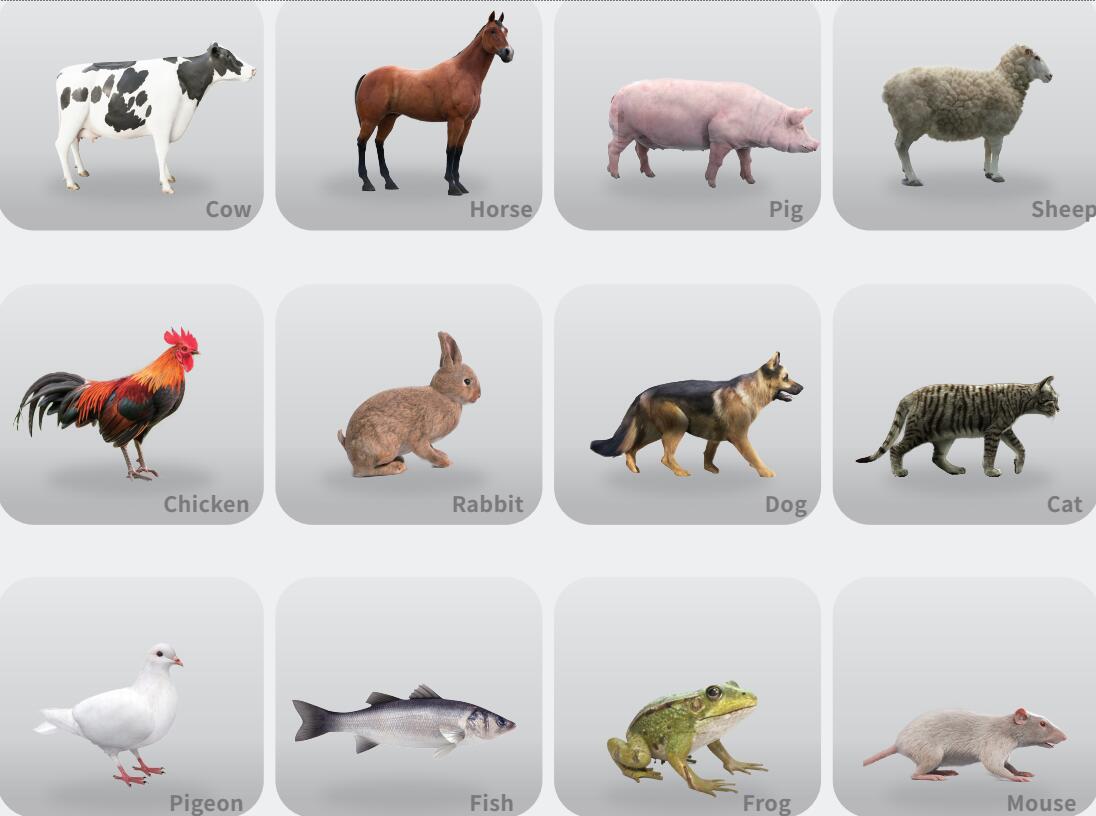 2. Naked-eye 3D Technology
Naked-eye 3D technology, without the need to wear helmets, glasses and other third-party wearable devices, you can use touch devices to perform naked-eye out-screen operations on 3D models or specimens, realizing 3D theater-level visual out-screen functions.
The system supports two operation modes of stylus and mouse, supports 3D display effect, 3D naked-eye off-screen function and AR off-screen function.
3. Nine systems
Respiratory system
Nervous system
Endocrine system
Digestive system
Reproductive system
Lymphatic system
Skeletal system
Muscular system
Cardiovascular system
4. Four modules
Physiological anatomy
Simulation experiment
Self-study courses
Question bank center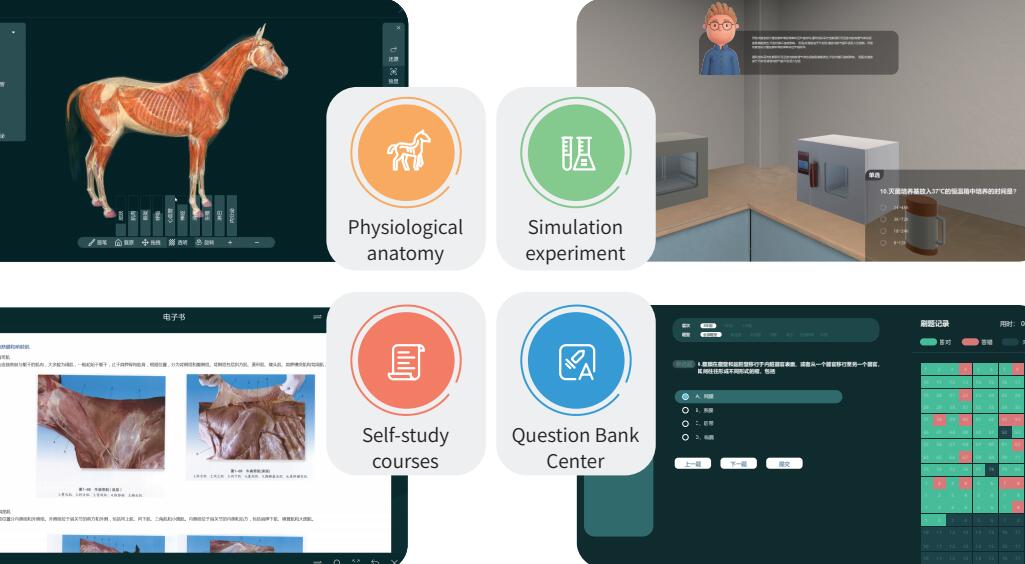 5. PC, MR, Naked-eye 3D, AR polymorphic teaching
Immersive operation, bilingual annotations in Chinese and English, free disassembly and combination of systems and structures, random pick and place, all-round viewing without dead ends, distance adjustment, etc. The content of auxiliary teaching resources such as electronic specimens, teaching micro-lessons, and teaching courseware is diverse, and the interactive operation of practical training is rich.
Product Advantages
1. Complete physiological and anatomical data
Covering the complete physiological and anatomical structure data of various types of organisms such as poultry, livestock, pets, aquatic products, etc., each structure can be displayed independently, and is equipped with bilingual annotation information in Chinese and English, and cooperates with voice interpretation to maximize teaching.
2. 3D Enhanced Interactive Module
Contains 12 animal anatomical structures, covering every major organ and system. High-precision textures make the display effect more realistic, and real-time 3D rendering technology can truly restore the animal anatomical structure, realizing the perfect combination of traditional anatomy and virtual reality technology.
3. Clearly labeled high-definition atlas data
According to the teaching requirements of animal anatomy, the system provides a large number of high-definition teaching atlas and detailed annotation information.
4. Extensive test question bank
The test questions are arranged according to the teaching content of the teaching materials. There are currently 8600+ test questions, covering various categories such as poultry, livestock, pets, and aquatic products. The number of test questions in the test bank is still increasing.
5. Targeted simulation experiments
The product provides targeted simulation training experiments, involving the relevant scope covered by knowledge, combining theoretical learning with practical ability, enhancing students' interest in learning and deepening the depth of knowledge understanding.